Big cities like New York, Chicago, and Philadelphia are known for their lavish holiday decorations. However, there are plenty of small towns that give America's glitzy big cities a run for their money when it comes time to deck the halls. Some of the smallest and humblest cities in America shine as brightly as the Christmas Star during the month of December. Santa has no problem finding these tiny towns adorned with strings of colorful lights, glowing candy canes, and jolly snowmen. Sophisticated city slickers have been known to journey to some of these remote destinations to gaze in wonder at the ornate holiday decorations that are the pride and joy of these heartwarming small towns.
NORTH POLE, ALASKA
You can't possibly discuss holiday decorations without mentioning the North Pole. The North Pole sports Christmas-themed decorations all year long. Visitors can spy Santa's sleigh, a Santa-themed mural, and a street called Santa Claus lane. If your little one writes a letter and addresses it to the North Pole post office—one of Santa's elves will write an authentic reply. The Santa Claus House is a Santa-themed gift emporium that features ornaments, collectibles, and freshly baked Christmas treats such as cookies and fudge. The Santa Claus House features a pen of live reindeer that visitors may feed and take photos with. If you order a gift from the Santa Claus House, it will have a real North Pole postmark. Few things will add to the magic of Christmas quite like a gift with a postmark from Santa's North Pole residence.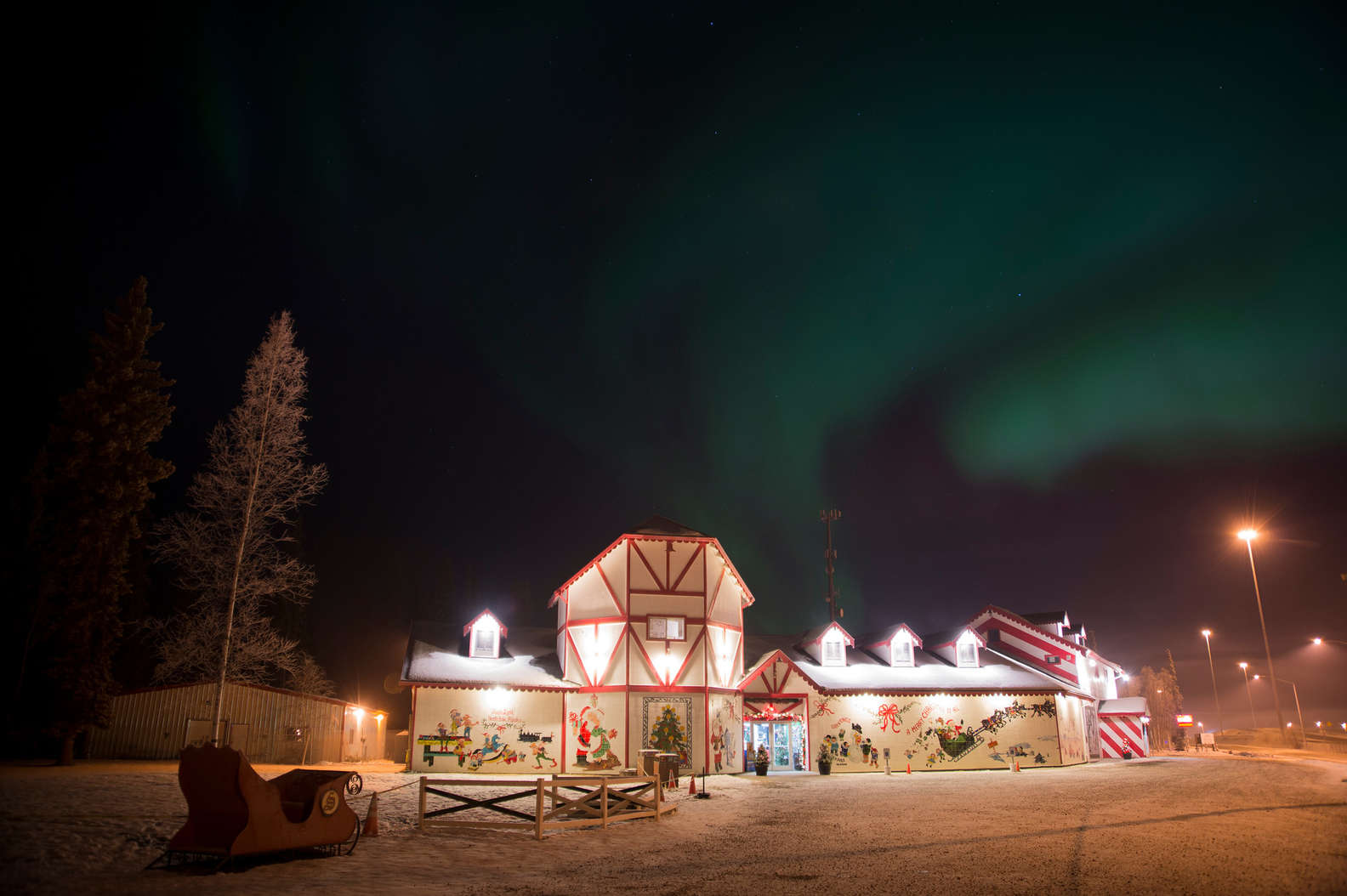 SANTA CLAUS, INDIANA
Most people don't know that Santa Claus has a second home outside of the North Pole, located in the contiguous United States. As the name implies—Santa Claus, Indiana is a winter wonderland that features a candy castle overflowing with sweets. a special toy store that features some of Santa's finest creations, and a boutique that features every Christmas ornament and keepsake imaginable. There are countless opportunities to meet Santa himself. Santa Claus, Indiana is home to several stunning holiday light displays that pay homage to the city's namesake. Santa has been known to respond to letters sent to his second location in Santa Claus, Indiana. Santa Claus, Indiana is a wonderful option for diehard Christmas enthusiasts who wish to experience Santa's magic firsthand, but can't quite make the trek to the North Pole. Your little ones will surely never forget a winter trip to a town called Santa Claus.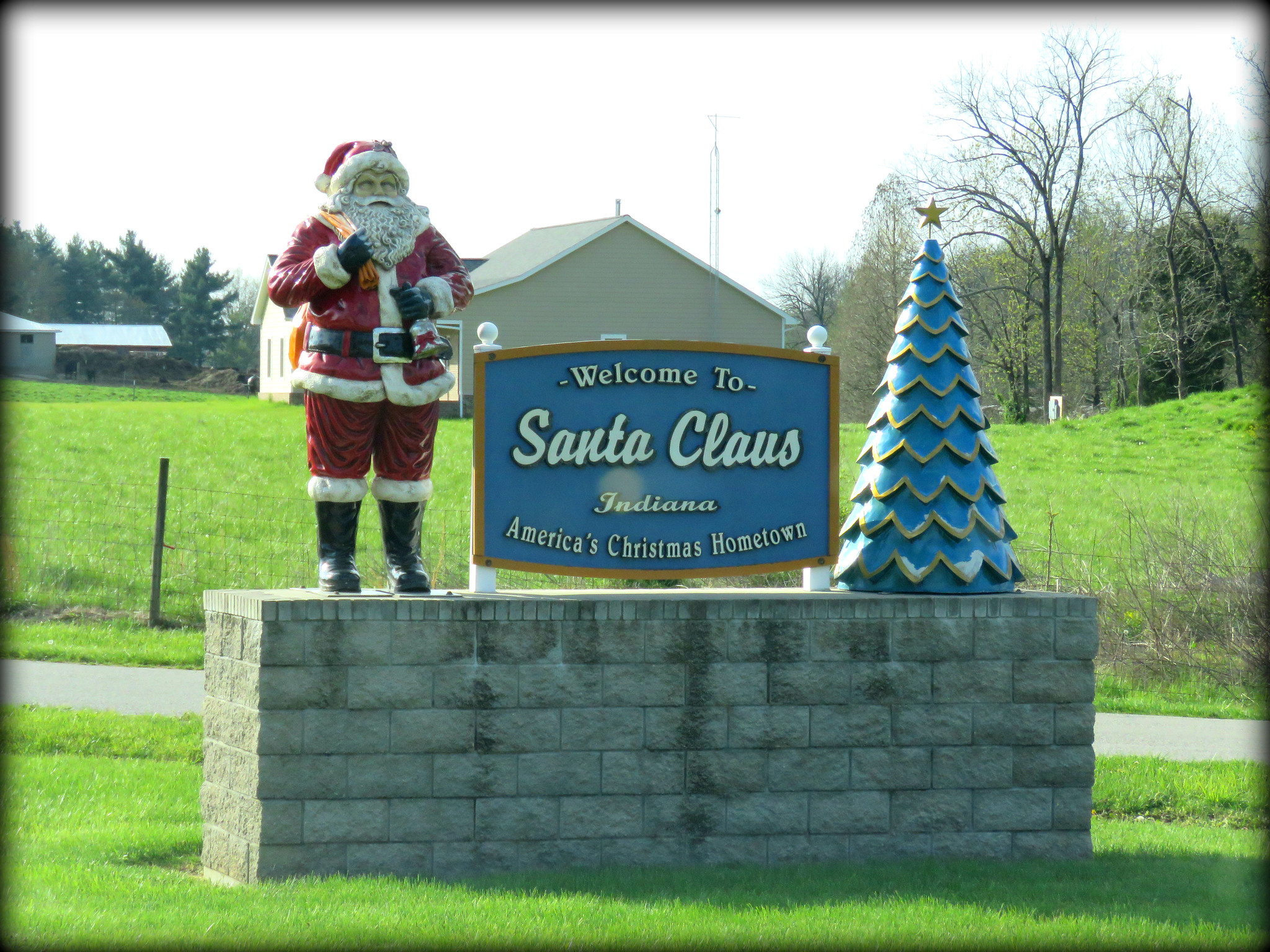 BETHLEHEM, PENNSYLVANIA
Did you know that the little town of Bethlehem is located in Pennsylvania? In 1741, a group of Moravian and German settlers named their new settlement Bethlehem after an inspired prayer service on Christmas Eve. Bethlehem lives up to its name each holiday season with a Christmas City Village that features handmade gifts, a Winter Light Spectacular at the Lehigh Valley Zoo, and a Christmas City Stroll that details Bethlehem's Christmas Eve roots. Few things will give you serious holiday cred quite like saying that you visited Bethlehem during the holiday season. The city of Bethlehem is a wonderful place to relive many old European Christmas traditions–such as visiting an outdoor Christmas market that serves warm food and drink.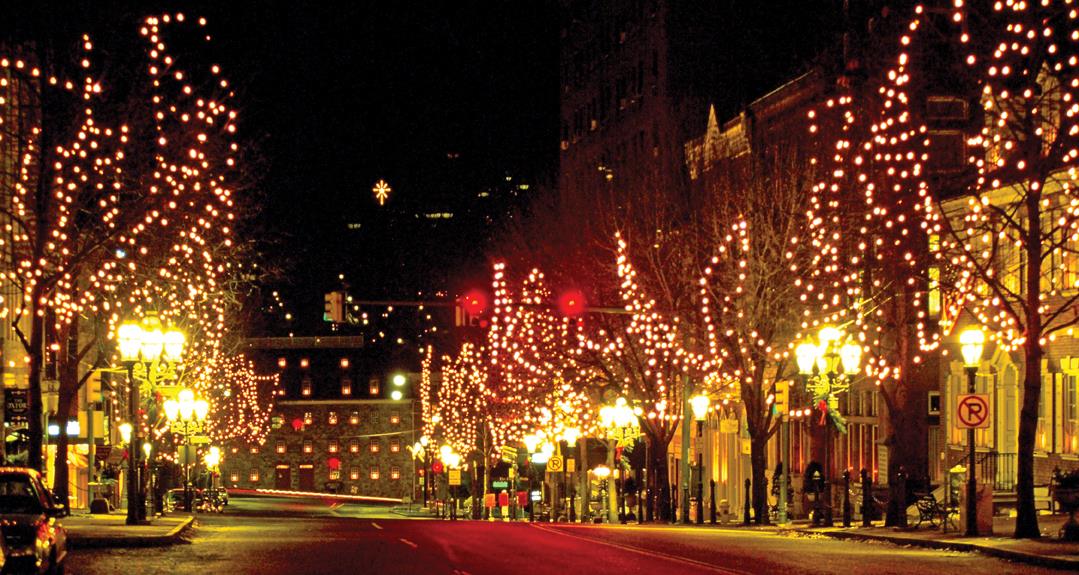 MIDWAY, UTAH
The original Ice Castle in Midway, Utah isn't explicitly a holiday decoration—but visiting the gleaming ice castle has become an annual holiday tradition for many people. About 10 years ago, architect Brent Christensen built a small igloo in his front yard to entertain a house full of bored kids. The igloo—which Christensen dubbed the Ice Castle—became wildly popular and attracted kids from surrounding neighborhoods. Christensen decided to build a large Ice Castle that families from around the state of Utah could enjoy. Christensen's stunning Ice Castle features an ice throne, roving ice queens, and walls made of icicles. The Ice Castle is illuminated by colorful lights that gives the sparkling ice an otherworldly glow. The Ice Castle has been such a runaway success, there are now Ice Castles in Colorado, Minnesota, Wisconsin, New Hampshire, and Edmonton, Alberta. The original Ice Castle in Midway, Utah is the grandest and most breathtaking ice palace of all. No matter what winter holiday you observe, the Ice Castle is sure to fill your heart with joy and wonder.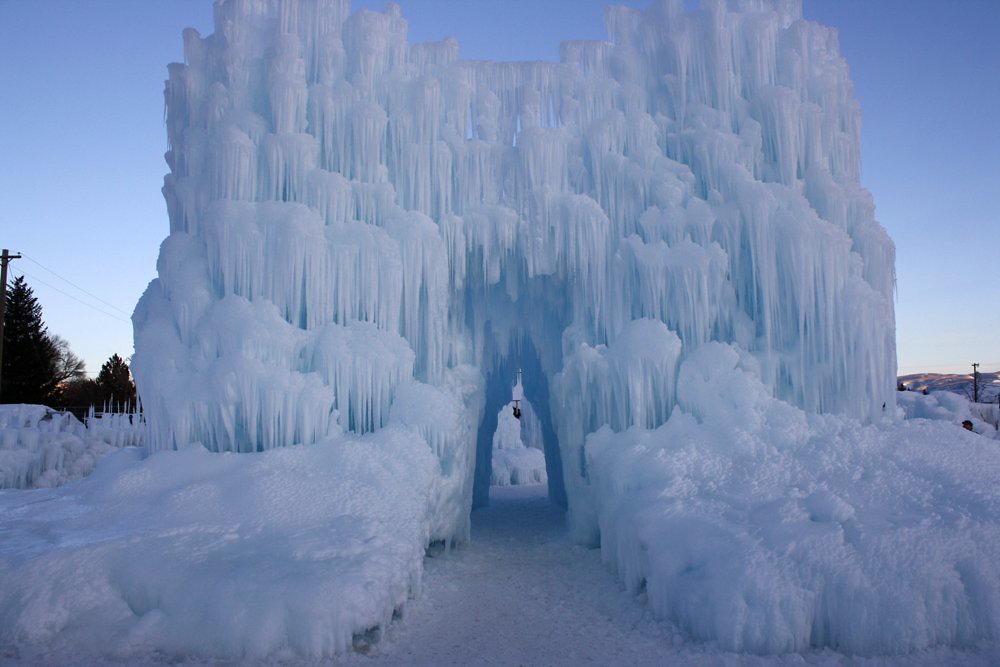 NATCHITOCHES, LOUISIANA
Louisiana is world famous for its love of parties, parades, and celebrations. Natchitoches, Louisiana is widely considered to be the epicenter of Louisiana's joyous Christmas celebrations. Natchitoches features one of the brightest light displays in the South, delectable Creole food, live music, and fireworks galore in the days leading up to Christmas. It is a Louisiana tradition to leave Christmas decorations in place until January 6—which is the official end of the Christmas season, and the start of Mardi Gras festivities. The people of Louisiana will use any excuse to celebrate, so you better believe that the month of December is a grand celebration from start to finish. Robust Christmas celebrations are a great warm-up for Mardi Gras.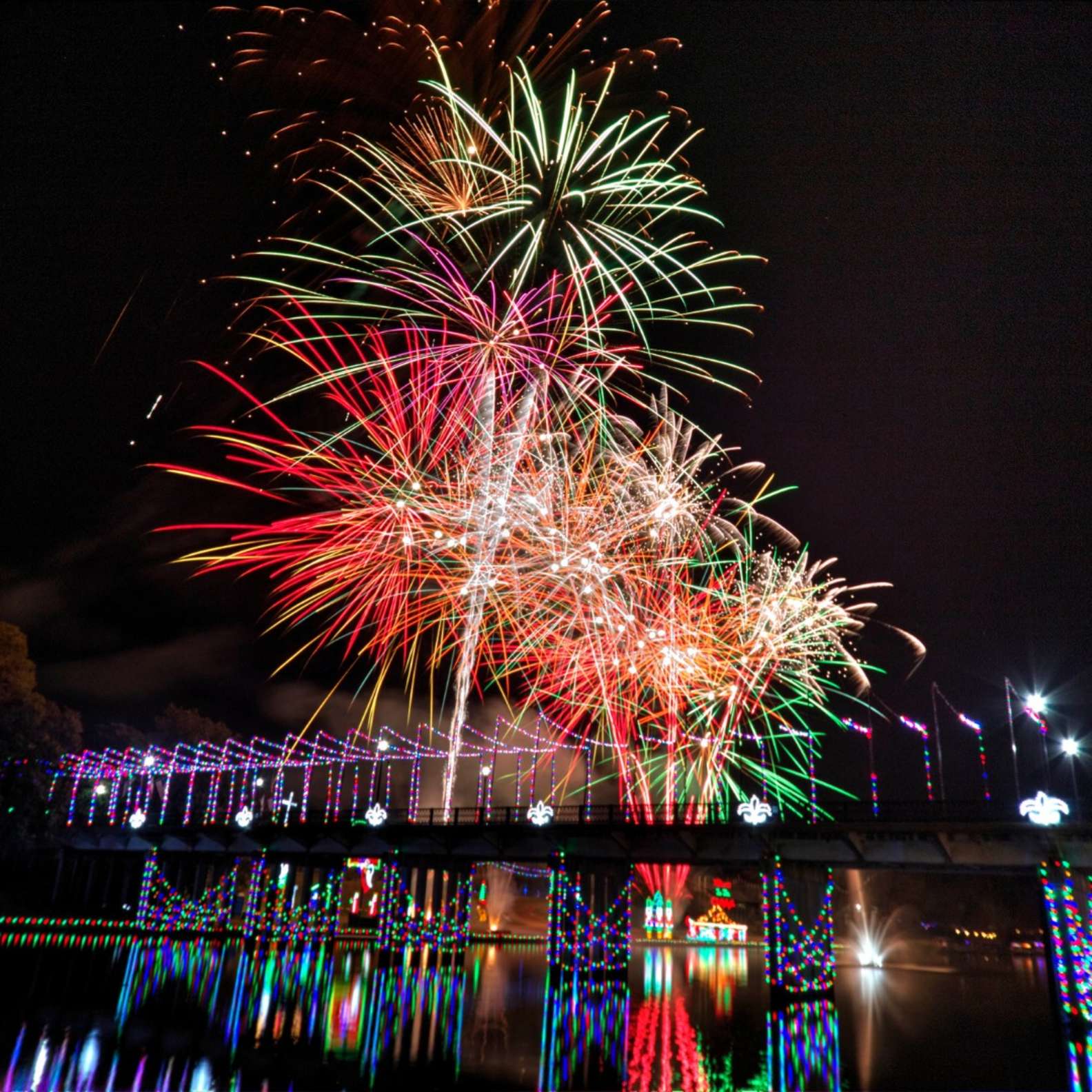 ST. AUGUSTINE, FLORIDA
St. Augustine, Florida isn't exactly a winter wonderland—but it is home to one of the most dazzling holiday light displays in the United States. The Nights of Lights Festival illuminates every nook and cranny of St. Augustine's beautiful historic city center. The Nights of Lights Festival dates back to a Spanish tradition of placing a single candle in each window to signal that each occupant of every building with a lit candle in the window has room for the baby Jesus inside of their heart. There are numerous train, trolley, and walking tours that showcase the splendor of St. Augustine's gorgeous light display. St. Augustine is a wonderful choice for people who want to experience the warm spirit of the holiday season in an equally warm climate. Hearing crashing ocean waves in the distance while you're surveying holiday lights is a truly transcendent experience.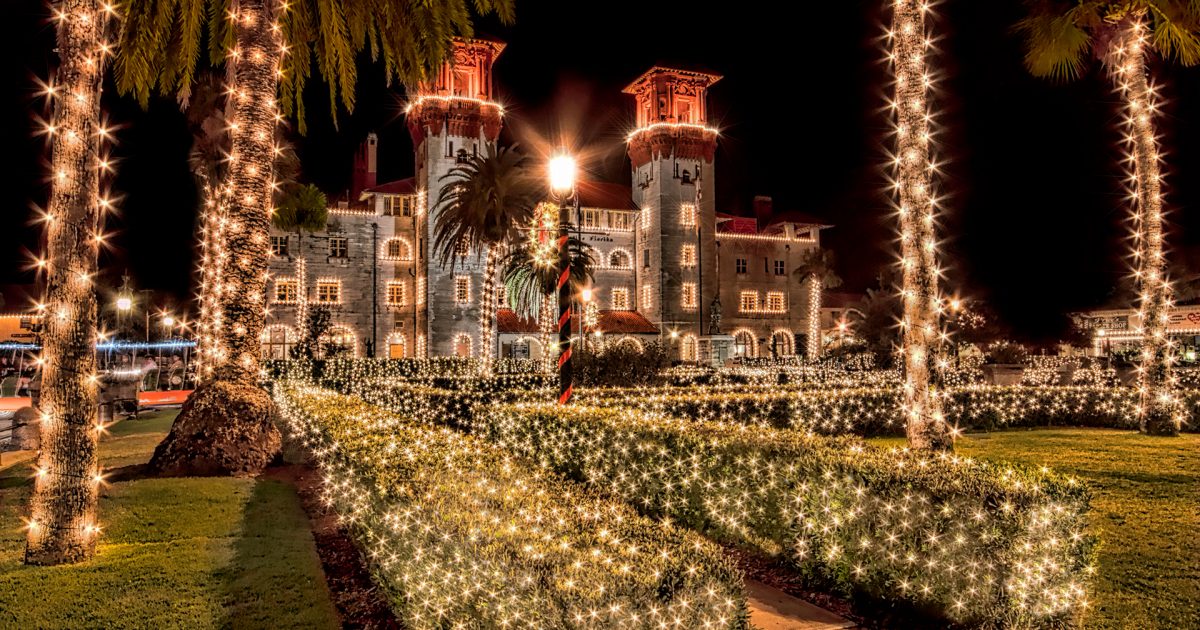 PIGEON FORGE, TENNESSEE
If you have ever dreamed of spending Christmas with Dolly Parton, head on over to Dollywood to partake in a Smoky Mountain Christmas. Dollywood features giant illuminated polar bears and fireworks that light up the winter sky at regular intervals. Dollywood hosts several Christmas shows that feature cherished Christmas stories, dancing, and performances of some of Dolly Parton's most beloved songs. Hitch a ride on the chair lift at nearby Gatlinburg SkyLift Park for an aerial view of Gatlinburg's Christmas lights, snow-covered fir trees, and lovely mountain peaks. You may get lucky and see a slumbering black bear dusted in snow as you glide up the mountain. There are few things quite as exhilarating as a blast of brisk mountain air in the winter time. Gatlinburg is home to plenty of cozy hotels and restaurants where you can warm up and snack on festive treats.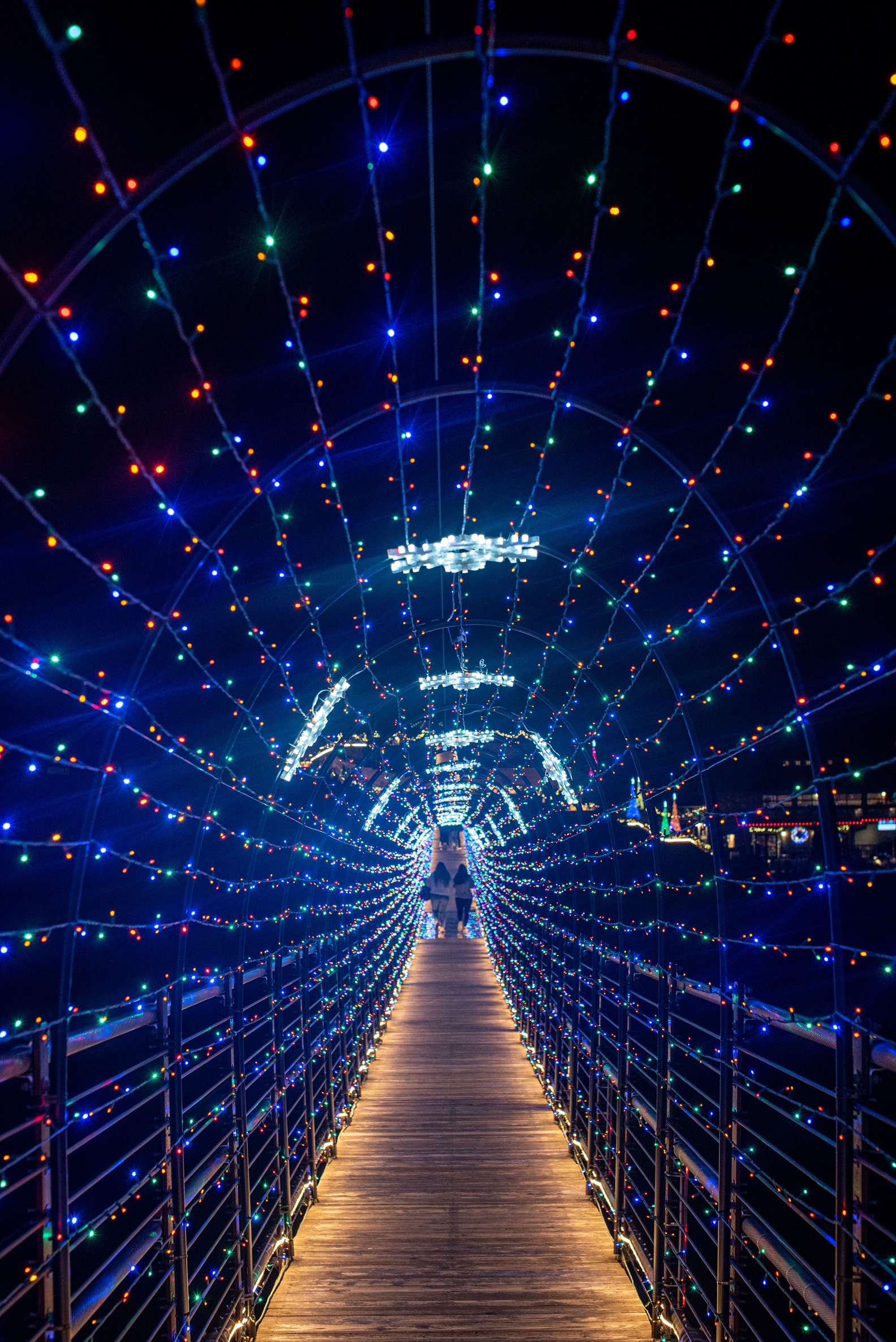 NEW HOPE, PENNSYLVANIA
If "The Polar Express" is your favorite Christmas story, a holiday visit to New Hope, Pennsylvania is an absolute must. New Hope is home to Santa's Steam Train Ride. Sip hot cocoa, eat Christmas cookies, and sing along with Christmas carolers as you speed towards Santa's workshop in an antique train. Santa and his elves offer guided tours of their magical New Hope workshop. A holiday trip to New Hope's train station is worthwhile just so you can view the ornate Christmas decorations that line the antique station. The nearby Peddler's Village is an excellent place to shop for handmade Christmas gifts, snack on Christmas treats, and view a lovely display of gingerbread houses.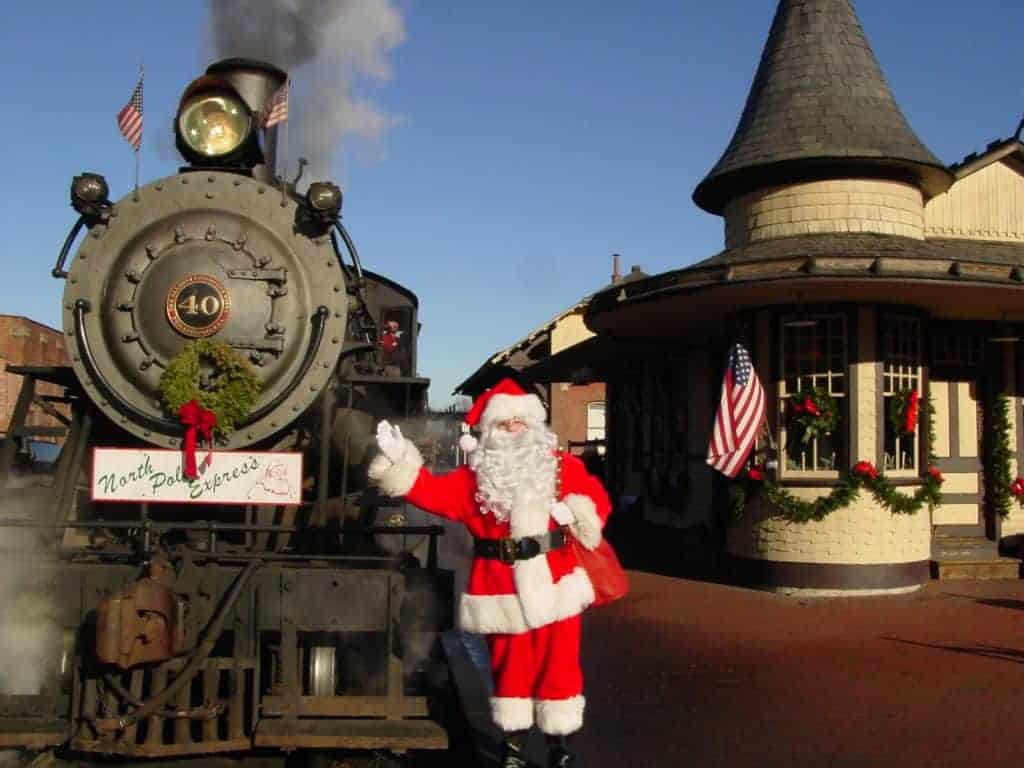 STOCKBRIDGE, MASSACHUSETTS
The quiet streets of Stockbridge, Massachusetts look just like a Norman Rockwell painting. That's because Norman Rockwell lived in Stockbridge for many years, and used the quaint town as the backdrop for his famous work "Home For Christmas". Residents of Stockbridge honor Rockwell's legacy each December by lining the streets with vintage cars and diverting traffic to recreate Norman Rockwell's celebrated holiday masterpiece. The original _Home For Christmas _is on display at the Norman Rockwell Museum in downtown Stockbridge. It is not often you are able to view a piece of artwork and experience a faithful three-dimensional recreation a few blocks away. The old New England charm of Stockbridge never fails to draw a steady stream of joyful holiday revelers.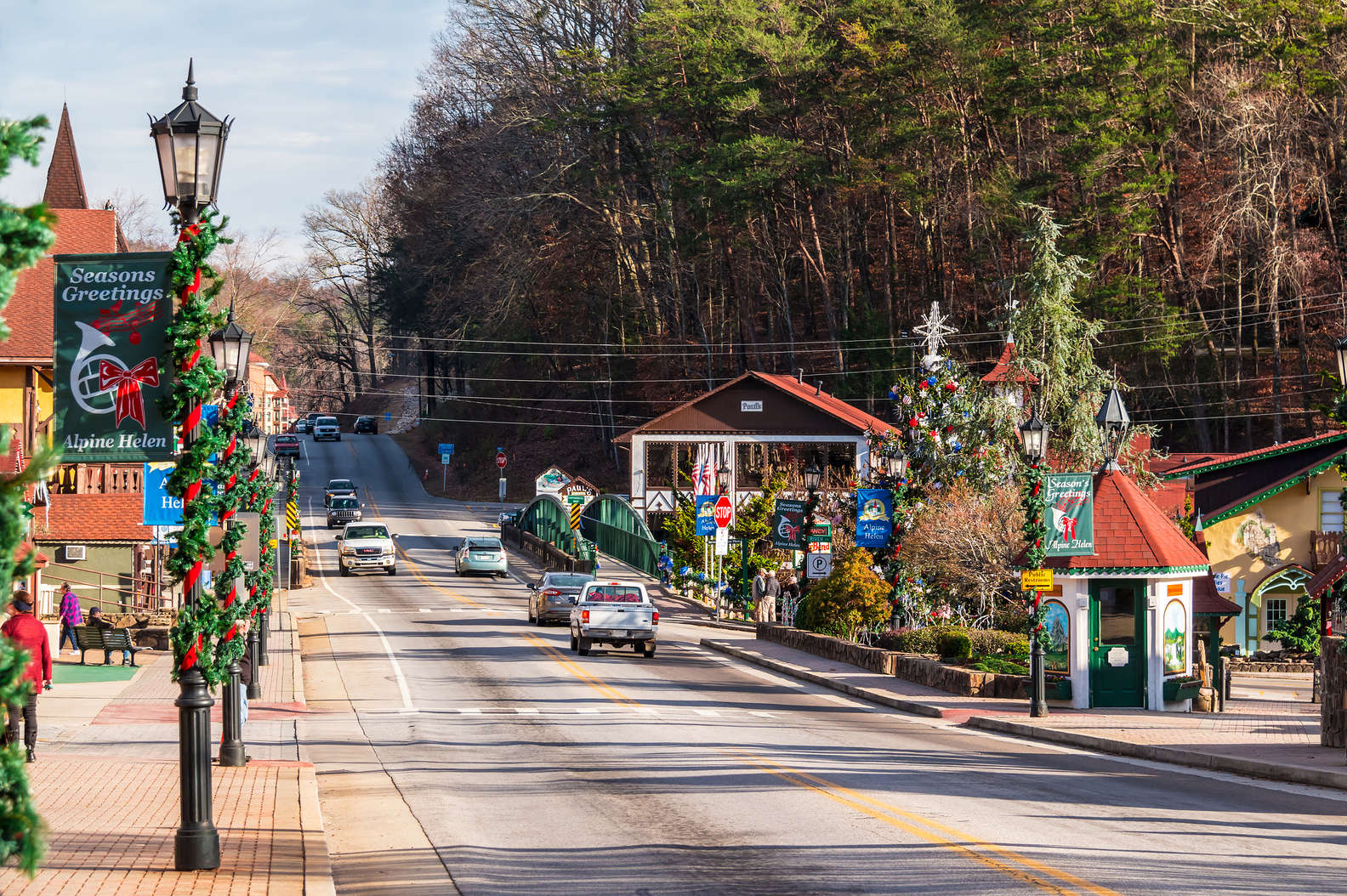 CARMEL-BY-THE-SEA, CALIFORNIA
When you think of sleigh bells ringing, the state of California doesn't immediately come to mind. The tiny coastal town of Carmel-by-the-Sea is famous for its hanging green garlands, red poinsettias, and twinkling Christmas lights. If ditching subzero temperatures and snow will exponentially increase your holiday cheer, Carmel-by-the-Sea is the perfect spot to enjoy Christmas festivities in a light jacket. Carmel-by-the-Sea features Christmas-themed wine tastings, performances, and a grand tree lighting on Ocean Avenue. Carmel-by-the-Sea takes great pride in its robust Christmas spirit. You may not see any reindeer wandering the streets of Carmel-by-the Sea, but you are bound to see some sea lions frolicking along the coast. Who says that a sea lion isn't an appropriate Christmas animal? A December spent close to the sea offers a unique sort of magic that rivals any snowy winter getaway.